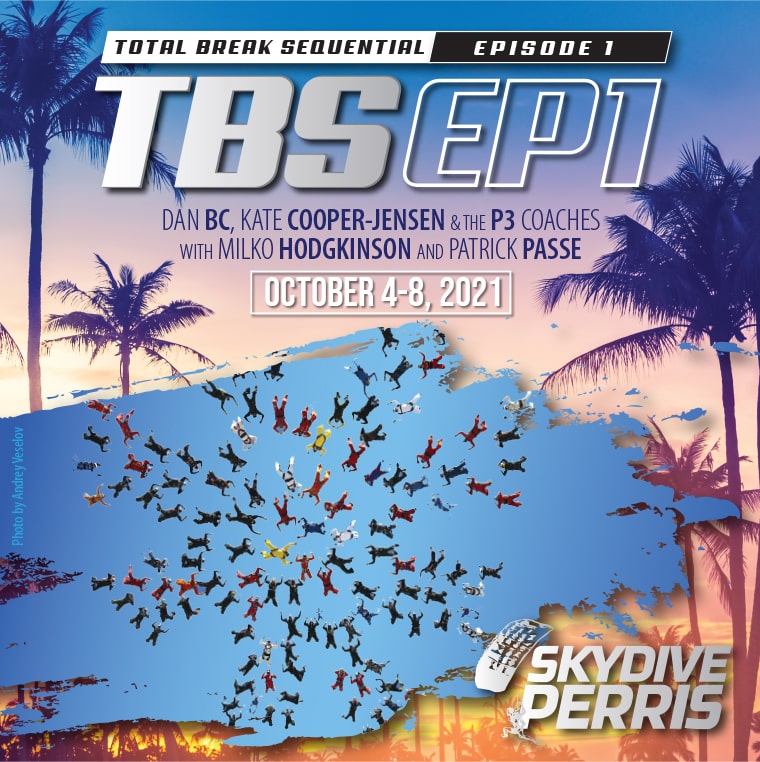 ** The TBS150 WORLD RECORD has been POSTPONED **
NEW DATES: OCTOBER 3 - 7, 2022

Join us this October for the 2021 replacement event "TBS Episode 1!"
Unfortunately the world has not opened up as quickly as needed for us to with confidence hold the Total Break Sequential 150-Way World Record event as planned for October 2021. However, we were all so excited about getting together and doing some great jumps that we have decided to still hold an event which will allow us to organize it without all of the requirements necessary to the success of a World Record event, and which will give us more flexibility for its organization and more time for participants to commit.

The theme of the event will be Total Break Sequential skydives because we love it so much, because the level will be there to go for it on each jump, and because it will allow us to prepare for the TBS150 that will take place next year. We are anticipating 100-120 participants on this "TBS Episode 1" (but we are not limited to that). We'll break into 3 different teams of 40 on day one, two teams of 60 on days two and three, and put the whole group together for 120ways on the last days. (Group sizes may be slightly more or less depending on registration).

The "TBS Episode 1" will be a great opportunity to meet again with our big international skydiving family (it's been a long time), to share together quality sequential large formation skydives and this friendly atmosphere we love so much.

NOTE: This is a NEW event! If you wish to be considered, you must apply online via the link below even if travel restrictions do not yet allow you to commit 100%. Pricing and other details will be announced soon.
Dates: October 4th - October 8th, 2021
This is a Monday through Friday.
Location: Perris, CA
Please refer to the drop zone website for information about local camping, bunkhouse, and nearby hotels: www.skydiveperris.com/facilities.aspx (click on "Bunkhouse & IHOP" or "Travel & Accomodations").
Questions or concerns about your qualifications can be addressed to Patrick Passe: patrickpasse@free.fr or Dan BC: danbc@skydiveperris.com.

If you have technical issues with your application, contact Jen Domenico: events@p3skydiving.com