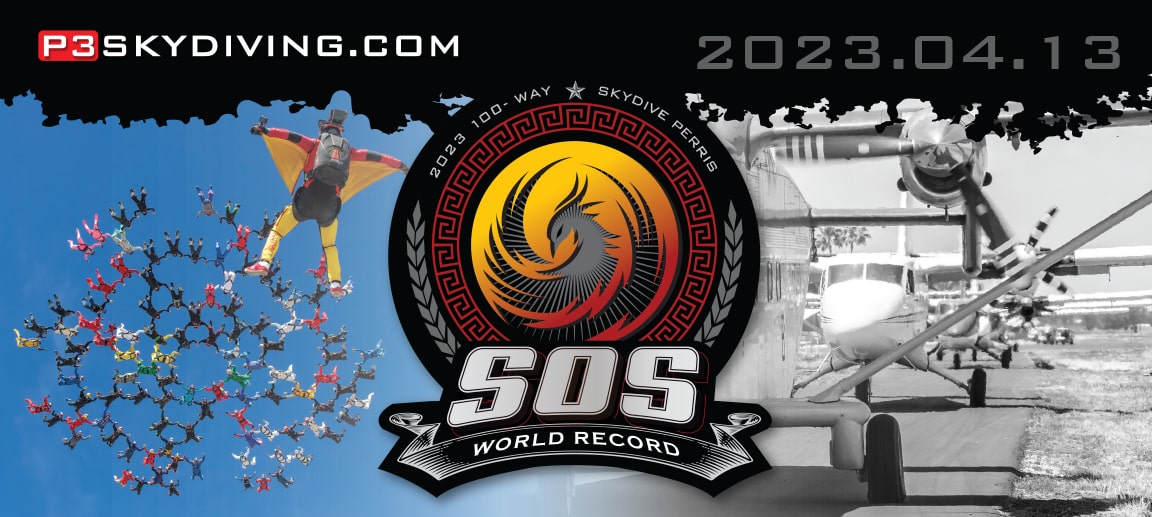 In 2022, we took on the biggest SOS challenge we thought possible. We made one amazing jump after another. We completed the first actual 110-way attempt except for one grip being dropped just before the last was picked up! We did four beautiful jumps with one person out. A different person each time and all very skilled, experienced flyers. One formation after another flew beautifully. We were doing some amazing skydiving! On the last jump the only person out passed out.

As the clock ticked down we only had a few jumps left. It is the Captains' duty to consider going smaller if that would still give us a record. We did our duty and discussed it. Who would we sit down? Do we just cut 10, 20 or 30 people because a smaller jump has a better chance of succeeding? Not a chance, we're too close and everyone is skydiving great. We're going for it. (And there would have been a damn mutiny if we didn't!)

It was the epitome of "Living Life in a Big Way." Reaching as high as we could. Pushing ourselves and each other to be the best we could be. Going for it because that is what life is about. And doing it together, with all our family. And in 2023, we're doing it again... who's in?
Dates: April 13th - April 16th, 2023
This is a Thursday through Sunday.
Location: Skydive Perris, CA
Please refer to the drop zone website for information about local camping, bunkhouse, and nearby hotels: www.skydiveperris.com/facilities.aspx (click on "Bunkhouse & IHOP" or "Travel & Accomodations").
The Goal:
First do a 100-Way SOS World Record largest freefall formation. When we get the record, we'll plan to either go bigger or do a SOS Sequential 100-Way World Record.
The Captains:
Your Captains are Kate Cooper-Jensen, Patrick Passe, Larry Henderson, Scott Latinis and Dan BC.
Price: $1290 USD for 16 jumps (subject to a potential fuel surcharge*).
All jumps will be multiple aircraft formations, most jumps will be made from altitudes ranging between 15,000' to 18,500' AGL using oxygen. This cost also INCLUDES video and still photographs of the dives.
* The stated event price is based on fuel prices as of July 2022. If fuel prices increase significantly between July 2022 and April 2023, P3 may be forced to add a FUEL SURCHARGE to the price of the event.
Deposit Required: $450 USD, once your application is accepted, is required in advance to secure your slot. This deposit will be applied towards the total event price. The balance of $840 is due prior to 8:00am on Day 1 of the event.
Payment Methods Accepted:
Cash
Zelle Electronic Transfer - Use recipient address events@p3skydiving.com.
Wise Transfer - Email events@p3skydiving.com for transfer details.
Personal Check or Bank Check - Funds must be in US$ drawn on a US bank, no exceptions. Make payable to P3 Skydiving and mail to PO Box 418, Perris, CA 92572 USA.
Credit/Debit Card - A 3.5% transaction fee will be added to all credit card transactions, as well as any debit card transactions under $100 USD. There is no fee for debit card transactions over $100 USD. All credit/debit transactions are processed by PVAS.

Wire Transfer - You are responsible for all fees charged by BOTH banking institutions (sending and receiving). Inquire with Jen Domenico events@p3skydiving.com for banking information.
Start Time: 8:00am on April 13th.
Please be registered, waivered, gear checked and ready to jump at this time. Please make your travel arrangements accordingly. Start times for subsequent days will be announced at the end of the preceding day.
Release Time: 5:00pm on April 16th.
Please make your travel arrangements accordingly. If you have to leave early on April 16th, be aware that you will pay for the entire day regardless for how many jumps you made.
Cancellation & Refund Policy: If you cannot honor your commitment to this event and you cancel within 30 days of the event start date, a $450 USD registration fee may be retained and the remainder of your deposit will be refunded. If you cancel prior to 30 days before the event, your deposit will be fully refunded.
What do I need to bring? Current USPA (or recognized aero club) membership card, photo identification (driver's license or passport), signed logbook, and ALL JUMPSUITS and/or WEIGHTS -- or an empty weight belt if you plan to rent weights from Gold State Gear -- and/or SWEATSHIRTS to ensure your best performance in each skydive regardless of the fall rate. Also, needless to say, please be sure your reserve is in date.
Questions? Please address administrative questions regarding registration and payment to Jen Domenico events@p3skydiving.com. Questions about the event and your qualifications can be addressed to Dan BC danbc@skydiveperris.com.