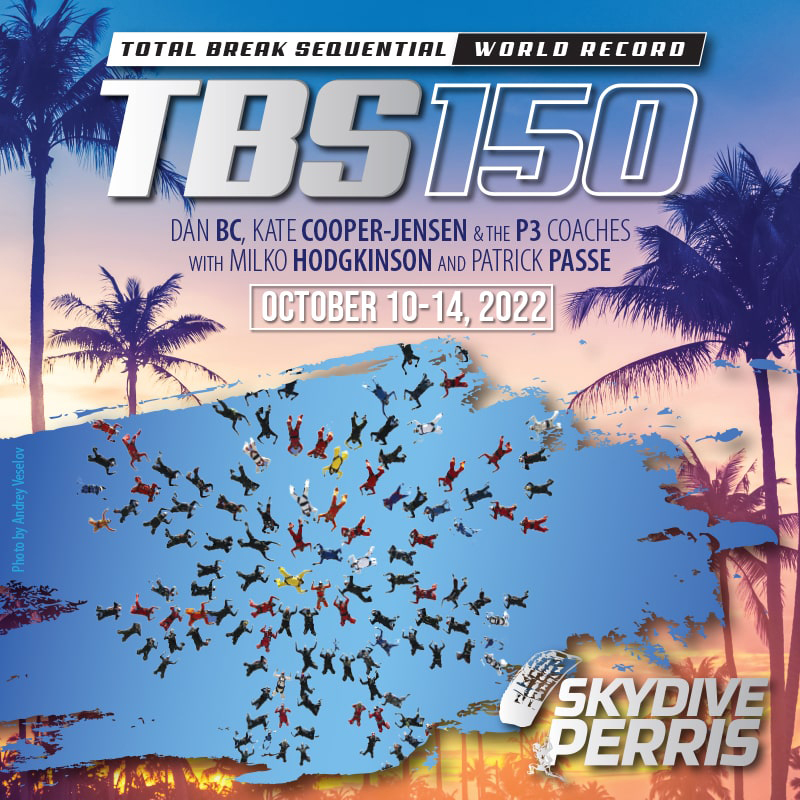 THE TBS150 IS ON AT SKYDIVE PERRIS!
Dates: October 10th - October 14th, 2022
This is a Monday through Friday.
Excitement around the world was high when, almost two years ago, we announced plans for the Total Break Sequential 150-way World Record. More than 350 people had applied for this event!  Unfortunately we were forced to postpone twice waiting for travel restrictions to be lifted. Well, they are being lifted!! The latest report is that the USA will open it's borders November 8th!
The most frequently asked question now is: "If I applied for the TBS150 when it was launched, do I still need to apply again for 2022?" The answer is "YES"... Everyone, whether you previously applied or not, must apply for the 2022 TBS150.
By end of November, we will communicate all relevant details regarding the event package and its price. The first part of the selection, probably around half of the participants, will be done and communicated on March 31st, 2022, and the final selection on May 31st.
This Total Break Sequential 150-way World Record will be one of the greatest achievements in skydiving history - and we are so happy that this event is finally on the horizon!
If you wish to be considered, please apply today! Questions or concerns about your qualifications can be addressed to Dan BC: danchenfld@aol.com, Patrick Passe: patrickpasse@free.fr or Milko Hodgkinson: milkojump@hotmail.com.